Better Watch Out Review
Better Watch Out Review
Disclaimer:
Sorry for posting this review later then I was supposed to. I hope you enjoy the review! Thank you, Alex.
Better Watch Out is an Australian-American Christmas Horror directed by Chris Peckover and stars Levi Miller, Olivia DeJonge and Ed Oxenbould.
And it's my third favourite Christmas movie.
If you haven't watched Better Watch Out, I highly recommend that you close this tab (after reading the rest of the paragraph) and go watch it. It's alright to watch the trailer as you find out nothing from them but don't watch anything else as they will most likely spoil the experience. I regret writing spoilers about this movie into my How To Improve article about A Wrinkle In Time. If you haven't read that, watch Better Watch Out first.
Also, this movie is not for younger audiences. I advise that if you are planning on watching this movie with anyone under the age of 15-16 years of age (I'm not that old but that is what I think should be the age minimum), that you shouldn't.
This review will be vague and short as the plot shouldn't be spoiled. Don't expect this movie to be like the trailer. If you want to watch Home Alone with blood and gore, I recommend the Netflix Original 'The Babysitter'.
First of all, I must say that this movie, to me, is more a character piece of a person who is slowly showing their dark side than an MA15+ remake of Home Alone.
Watch this movie with caution as it's very dark and disturbing. If you've watched this movie and hated it as it was awkward and twisted, then movie achieved what it wanted.
The acting in this movie is fantastic. Levi Miller is amazing as Luke. He is a highlight of this movie and definitely owns this role. Ed Oxenbould helps make us sympathise with a character such as Garret. Olivia DeJonge is one of the smartest horror characters that I've seen in a horror film. Her decision and actions seem quite realistic for someone who would be in that situation.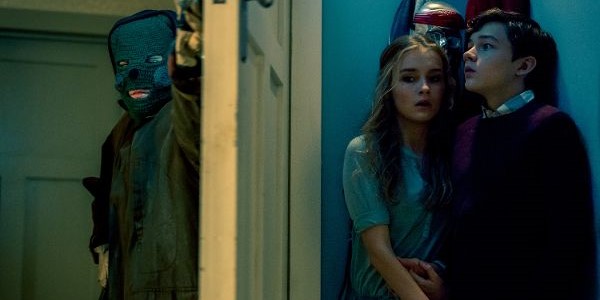 This movie is quite heavily inspired by Home Alone. There is a scene in this movie that pays homage to the paint can scene in the Christmas classic. Instead of it being quite innocent, it's transformed into something quite horrifying. The movie also has several other references to a number of other movies but the ones about Home Alone stand-out the most.
Better Watch Out is one of the darkest and disturbing movies I have seen. It's filled with top-notch acting and one of the best plot twists I've seen on screen. This is my favourite Indie film and my third favourite Christmas movie.
Bonus Content:
Spoiler Warning! - Turn Back if you haven't already seen the movie
The three deaths in this movie were quite sad.
All Ricky wanted to do was say goodbye to his girlfriend before she left town.
Jeremy was a jerk but that doesn't mean he wasn't a nice person. From reading the letter he was forced to write for Ashley, which was interpreted into a suicide note, it showed that he truly loves her and wants to be forgiven.
And Garret, the character that you sympathise with the most as even though he was apart of the plan, he didn't want to be apart of the aftermath of the fallen plan. He wanted to set things right. But by doing so, his life was taken by his best friend and he almost got Ashley killed.
These deaths should make the audience happy that they are killed because of what the trailer portrayed these scenes to be. But the acting and script was so good, not was the trailer made them to be, that you end up feeling sad and sorry for them as they didn't deserve to die the ways they did.