'Anthony Jeselnik: Thoughts and Prayers' Review
'Anthony Jeselnik: Thoughts and Prayers' Review
A Worthy Addition to Jeselnik's Career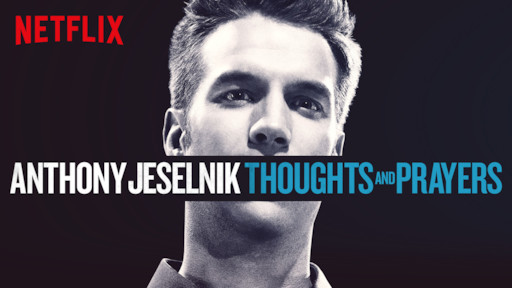 Rating: ★★★½
Anthony Jeselnik's 2015 Netflix Stand-Up special 'Thoughts and Prayers' is an hour well-worth spent. It's entertaining and funny but never quite reaches the greatness of his 2019 special. It was a great insight into Jeselnik's earlier career, seeing his style of comedy before 'Fire in the Maternity Ward'.
The biggest problem was its reliance on the live audience. The camera didn't have to keep cutting back to them laughing or reacting to Jeselnik's jokes. You would feel the same impact on the atmosphere if you just heard them laugh and react why the camera just focused on the comedian.
The stand-up had more downtime then anticipated but it was still jam-packed with the jokes we've come to expected. The laughs ranged from small chuckles to loud belly laughs.
If you are a fan of Anthony Jeselnik or you want something dark and offensive to laugh at, I recommend checking out this stand-up special.