Shaun of the Dead Review
Shaun of the Dead Review
Hello Readers,
'Shaun of the Dead' is directed by Edgar Wright and it stars Simon Pegg as Shaun and Nick Frost as Ed. It is the first movie in 'The Three Flavours Cornetto Trilogy'.
I rewatched this movie the other night with my Dad and I have to say, I enjoyed it.
'Shaun of the Dead' is a funny rom-com that features zombies. It is a great movie for people who don't like zombies films as the zombies aren't the main point of it. At its core, it's a story about family, friendship and Shaun trying to get his ex back.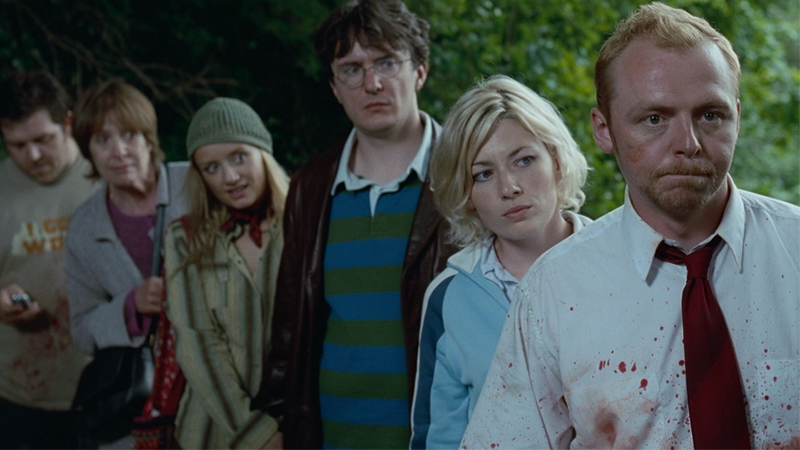 I'm not really into zombie flicks. I haven't seen 'I Am Legend'. The only TWO zombie movies that I've seen are 'Shaun of the Dead' and Zombieland'. The reason why I enjoyed them was because they weren't just horror zombie movies, they had comedy in them. I love horror films, my favorite movie is 'IT' (2017). I just don't like zombie or apocalyptic movies.


As usual with Edgar Wright movies, the main characters are relatable and likable.
The directing and editing of this movie are where a lot of the laughs come from.
An example of this is after zombies have come back to life, Shaun and Ed don't know how to kill them and right after they ask, the anchor on the News says how to kill the zombies. It's very funny and there are a bit more of these.
The ending is unpredictable and very different from a traditional zombie movie. It is very funny and one of the best parts of the movie.
In the end, 'Shaun of the Dead' is a funny zom-rom-com. It's my second favorite movie in 'The Three Flavours Cornetto Trilogy'. My problem with this movie was Me (Alex, the person who wrote this review). I just don't like zombie movies (But I am excited for '
Anna and the Apocalyptic
'). Besides that, it was great. I recommend this movie to people that like Edgar Wright, Simon Pegg, Nick Frost. If you enjoyed Baby Driver, Hot Fuzz or The World's End (Not Pirates of the Caribean), you would love this.
I give 'Shaun of the Dead' an 8.75/10.
Thanks for reading this review. I hope you enjoyed it.
Have you seen 'Shaun of the Dead'? If so, did you like? Tell me down below in the comment section.
My next post will be the long-awaited review of 'Jurassic World: Fallen Kingdom'!
Don't forget to complete my survey:
https://goo.gl/forms/0vjIsoO0SRY7XRGH3
.
See ya soon,
Alex O'Brien