Popstar: Never Stop Never Stopping Review
Popstar: Never Stop Never Stopping Review
Hello Readers,
This is my review of Popstar: Never Stop Never Stopping. It stars, written and is directed by 'The Lonely Island'.
Childhood friends Conner (Andy Samberg), Owen (Jorma Taccone) and Lawrence (Akiva Schaffer) found fame and fortune after forming the hip-hop group the Style Boyz. Owen and Lawrence faded into the background when frontman Conner left the band to launch a successful solo career. Now, the egotistical singer decides to film a documentary about his life while he's still on top. When his second album flops, the camera is there to capture his world come crashing down.
As I said in my last review (Non-Stop:
https://alexobriensreviews.blogspot.com/2018/06/non-stop-movie-review.html
), this movie perfectly portrays something. In this movie, Akiva Schaffer and Jorma Taccone perfectly portray the main character, Conner4Real, is a person that has everything, money, fans, and fame, yet he really has nothing at the same time.
This movie works really well as a mockumentary, but in their world as a documentary. It is really well done and has some good gags that could only happen because of how it was made. This movie is really funny but that doesn't mean that all the jokes landed. The way they bounced around from real-life celebrities in interviews to footage of Conner4Real on tour to the retro footage. Each type of footage that is used makes the movie feel more like a documentary.
The acting in this film is great. Having all these real-life celebrities make the characters in Style Boyz feel like they are real. The character, Hunter the Hungry, was super annoying. But that was really the point of his character. Also, the Andy, Jorma, and Akiva are great, making their characters seem like they are real.
This movie has a satisfying payoff to this film. I had goosebumps.
Throughout the movie, we were introduced to some characters that would be only seen once or twice throughout the film. Some of them are funny, some of them weren't really that good.
Look out for Justin Timberlake's cameo, his cameo was probably the best cameo in the film.
The soundtrack is hilarious (Link down below to the soundtrack). Each song is different from the next which makes them feel fresh and unique. If you are fans of 'The Lonely Islands' other work, you will love the songs.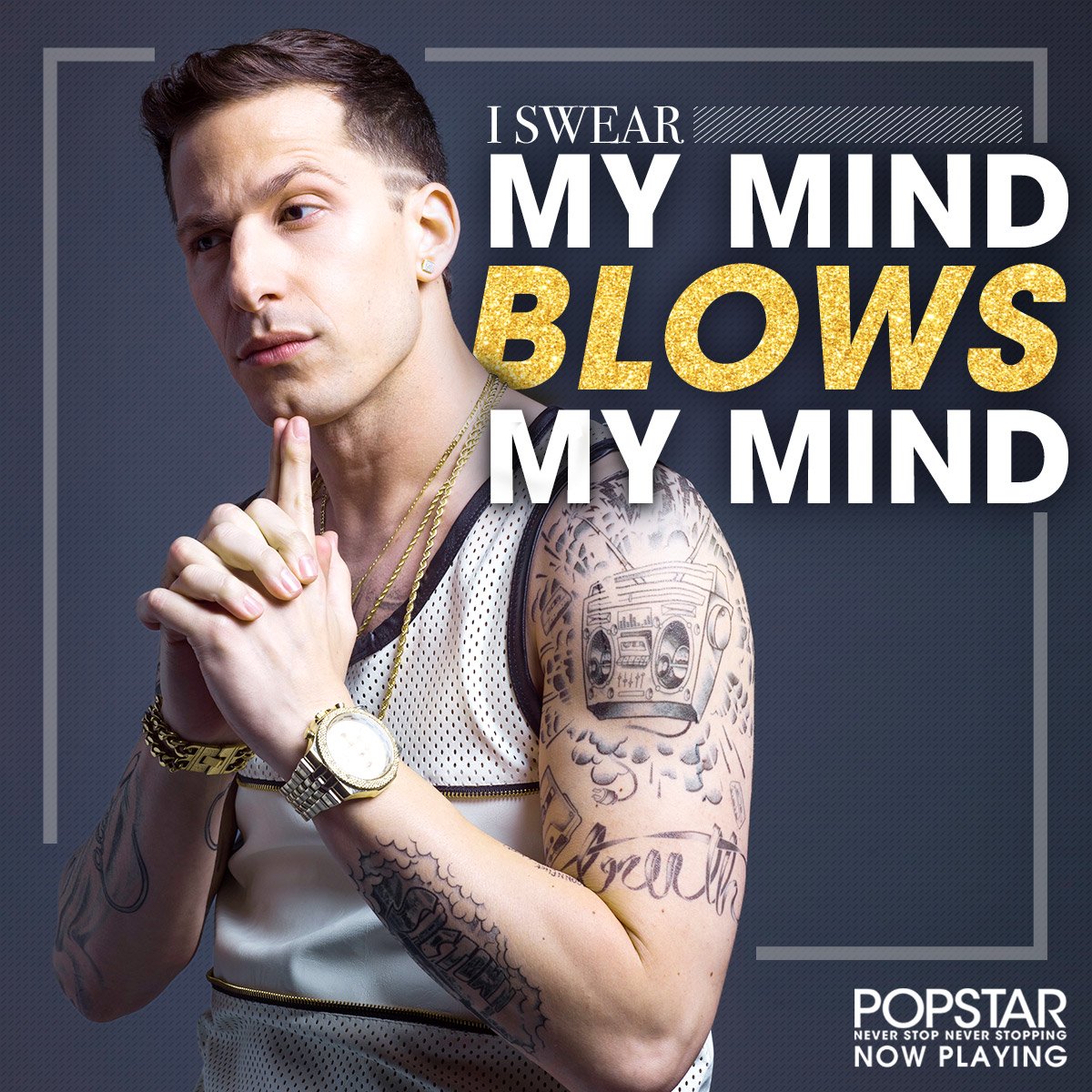 In end, 'Popstar: Never Stop Never Stopping' is a great mockumentary. The acting was really good, the characters were funny and likable, the script was hilarious and the editing was great. The story was a bit predictable but enjoyable. I recommend it to fans of 'The Lonely Island', 'Brooklyn Nine-Nine', Andy Samberg and Mockumentaries.
I give 'Popstar: Never Stop Never Stopping', 9 out of 10
Before you go, quick story.
While researching for this review, I came across how much the movie took to make and what the box office was. I have to say when I saw this movie took $20 million USD to make I was shocked. I thought it would have been higher. But I was more shocked when I found out its box office returns. It didn't even earn back 50% of its budget. Grossing $9.6 million USD. Now this movie is a very underrated and unrecognized film and it deserves another life as a 'Cult Following'.
Please watch this movie and listen to its hilarious music.
Links to buy Popstar:
https://www.sanity.com.au/products/2316044/Popstar_-_Never_Stop_Never_Stopping
https://www.jbhifi.com.au/movies-tv-shows/movies-tv-shows-on-sale/comedy/popstar-never-stop-never-stopping/983861/
Links to Popstar's Soundtrack:
https://open.spotify.com/album/1Artfk9N7eEGMNPW1AQUvd?si=5eoBr8kKTcqZX78hKsy5Ig
https://www.sanity.com.au/products/2321037/Popstar_Never_Stop_Never_Stop
Also thanks to Jhon (again) for recommending this movie to me.
Thanks and see ya soon,
Alex O'Brien